Have you noticed the presence of "index.php" in your WordPress website's URLs?
While it may not seem like a big issue at first, having clean and user-friendly URLs can significantly improve the overall user experience and search engine optimization (SEO) of your website.
In this blog post, we will discuss how to get rid of index.php in WordPress URLs, what permalinks are, and the benefits of having clean URLs.
So let's get started!
What are Permalinks in WordPress?
In WordPress, a permalink is a URL (uniform resource locator) assigned to each post, page or custom post type on your website. It is the web address that visitors and search engines use to access your content.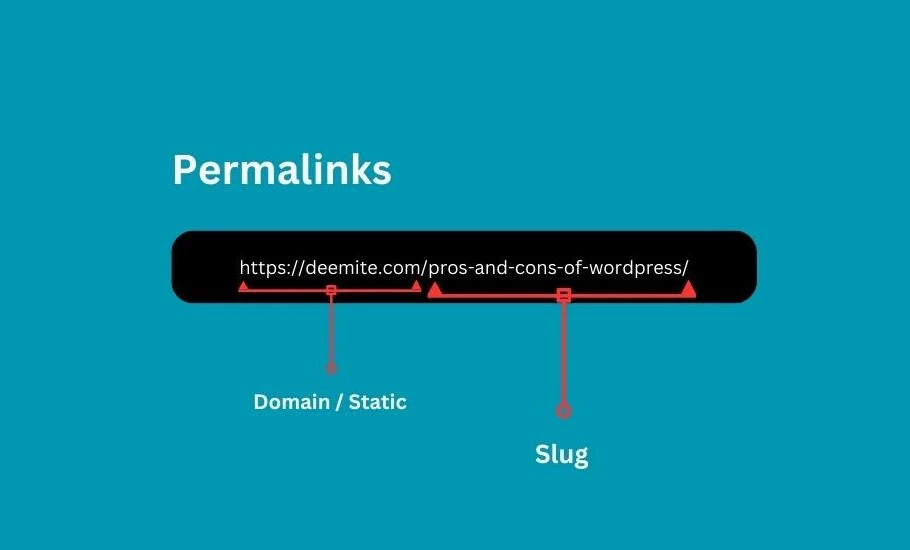 Permalinks are essential for creating user-friendly and search engine-friendly URLs that can be easily understood and shared.
By default, WordPress uses a permalink structure that includes "index.php" in the URLs, making them appear less clean and concise.
But WordPress also allows you to customize the permalink structure based on your preferences. You can include various elements in the URL, such as the post title, date, category, and more.
Customizing permalinks can help improve the readability of your links and make them more descriptive, which can be beneficial for search engine optimization (SEO).
Step-by-Step: How to Get Rid of "index.php" in WordPress URLs
Let's get rid of index.php in WordPress URLs in a few steps.
1. Log in to the WordPress Admin Dashboard
First, log in to your WordPress admin dashboard using your username and password. This is the backend of your website, where you can make various changes and adjustments.
2. Access Permalinks Settings in WordPress
Once you're logged in, locate the "Settings" menu on the left-hand side of the dashboard. Hover over it, and a submenu will appear. From the submenu, click on "Permalinks."
3. Choose a Clean Permalink Structure
On the Permalinks settings page, you'll see different options for URL structures. By default, the "Plain" option might be selected, which includes "index.php" in the URLs.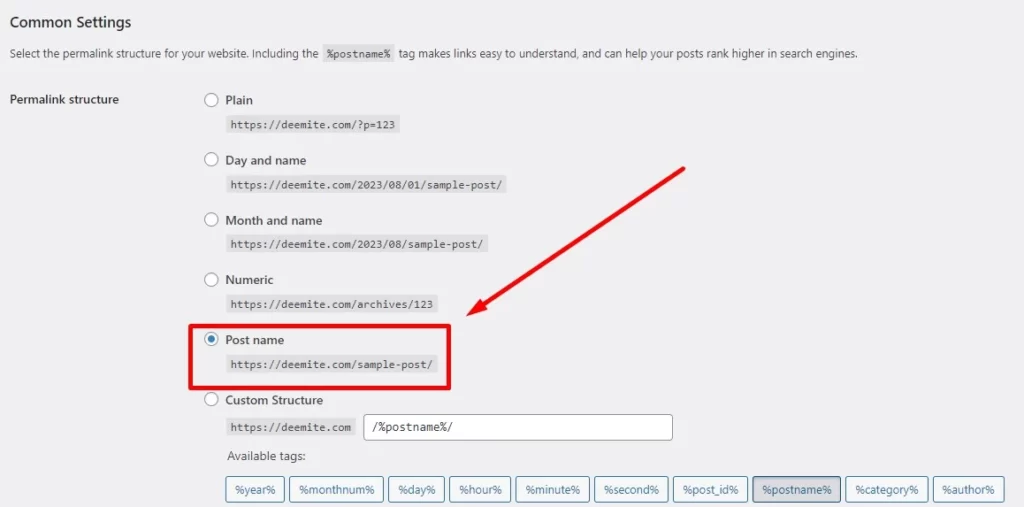 However, WordPress offers other options that create cleaner and more user-friendly URLs.
Consider the available permalink structures, such as "Post name," "Day and name," or "Month and name."
These options use relevant keywords from your content to create meaningful URLs that are easier to read and remember. Select the structure that best suits your website's needs.
4. Save Changes and Check your URL
After choosing the desired permalink structure, scroll to the bottom of the Permalinks settings page and click the "Save Changes" button.
WordPress will save your new permalink structure, and your URLs will be automatically updated without "index.php."
To ensure the changes have been applied successfully, visit your website and navigate to different pages. Observe the URLs and confirm that "index.php" is no longer present.
You can also click on links within your website and verify that they lead to the correct pages.
Additional Considerations and Troubleshooting
While the steps above should work in most cases, there are a few additional considerations to keep in mind:
1. Requirement of mod_rewrite module in Apache
Removing "index.php" from URLs requires proper server configuration. For Apache servers, the mod_rewrite module needs to be enabled. You can check with your hosting provider or server administrator to confirm if the module is activated.
2. Updating the .htaccess file
WordPress usually handles the necessary updates to the .htaccess file automatically. However, in some cases, you may need to update it manually.
The .htaccess file is located in the root directory of your WordPress installation. If you encounter any issues with the permalink changes, consult WordPress documentation or contact support for guidance on manually updating the .htaccess file.
It's always recommended to create a website backup before making any changes to configuration files, such as .htaccess. This ensures that you can revert if anything goes wrong during the process.
Conclusion
By following the steps outlined in this blog post, you can easily remove "index.php" from your WordPress URLs and enhance the user-friendliness and SEO of your website. Clean and concise URLs not only make it easier for users to navigate and remember your website's content but also contribute to better search engine visibility.
Take the time to adjust your permalink structure and save the changes in the WordPress dashboard. Don't forget to verify the updated URLs and ensure they reflect the cleaner structure you desire.
With these simple adjustments, you can transform your website's URLs into professional and user-friendly links that leave a positive impression on your visitors.